Meditation Necklaces

The energy that goes into each necklace  is unique and the process is a deep meditation; each necklace I weave has a mantra, a theme. This theme is the focus of the piece, the guiding inspiration, I use to illuminate the path the weaving takes me. I choose the elements, the colors, and the pattern to convey the feeling of the theme in a wearable object of art. This work I'm doing feels sacred and so I am very delighted to share with you my "Mediation Necklaces". I offer them to you with my whole heart.
        BALANCE
The waves of c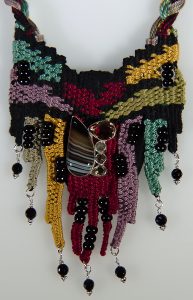 olor cross over from side to side and remind me of finding our equilibrium.  The deep red center represents the root chakra where our energy springs from and re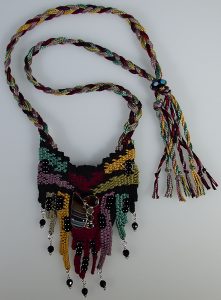 turns.  The center stones set in sterling silver, feature a drop shaped Botswana agate, which crystal healers believe to bring healing energy of unconditional love, calming and balance energy.  The other stones are smoky quartz, considered to have grounding and balancing properties.  The dangles are faceted onyx and sterling silver.  We all strive for balanced lives.  To grow we need to move outside our comfort zone, try new things, consider different ideas.  Moving between what is known and exploring the internal and external world we are constantly finding our balance again and again.  When life seems to spin out of control, come back to your center, take a breath and find your balance.
       HAPPINESS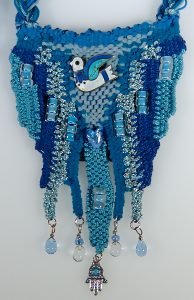 The vintage enamel bird pin from Mexico reminds us that we are all the authors of our own happiness.  Blue represents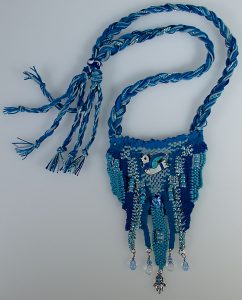 the innate wisdom we all share, turquoise youthful confidence and an ability to concentrate.  The vishuddha chakra is centered in the throat and is responsible for speech.  Express your joy and happiness freely.  Share your blessings with your family, friends and the world.  .  The center dangle is a sterling hamsa hand set with an opal.  The hamsa hand protects the wearer from harm.  So go ahead, enjoy this beautiful world.
THE HEALING HEART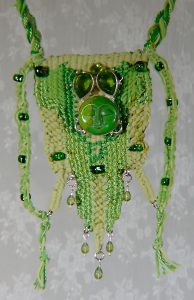 Green is the color of the heart chakra.  There is room for everyone in our hearts.  Allow your love to flow freely and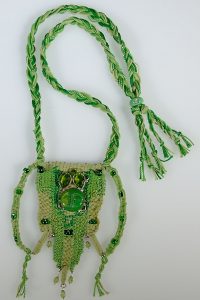 consider filtering life through your heart, rather than your logical brain.  Love is a mystery embrace it.  If you are thirsting for love in your live, just allow yourself to love others and soon you will be floating in a heavenly pool of love yourself.   The center stone is a composite of Gaspite with two large peridots all set in sterling silver, above which sits another beautiful peridot.  The dangles are also lovely faceted peridots  Some say that green stones help the wearer to overcome envy and possessiveness.  Deep and true love cannot exist without trust.  What a beautiful world we could share if we all trusted that giving love freely, without strings and conditions.
           POWER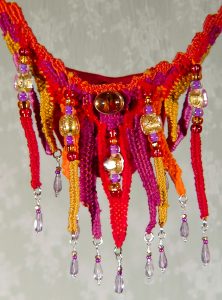 This piece features examples of high energy with the color red and stability with the use of violet. Gold is also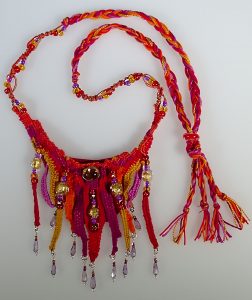 an important aspect in this meditation which represents freshness, happiness, positivity, joy and loyalty.  Orange is a color of friendship.  The citrine set in sterling is known for healing properties, purifying the body of toxins and strengthen the immune system.  The faceted amethyst dangles represent luxury and a sober mind.  To demonstrate power it is important to know where one ends and the other begins,  Respect ourselves, speak our truth and do no harm is an ambitious goal but the essence of true power.
ABUNDANCE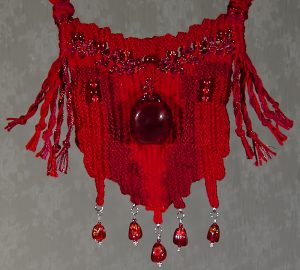 The rich, warm color palette, 24kt gold  lined beads, sterling set citrine and faceted amethyst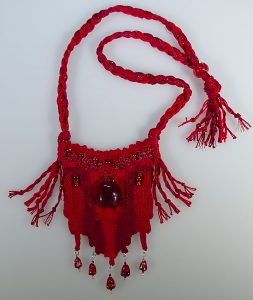 drops are all elements which exude opulence and good fortune.  These blessings belong to all of us.  Welcome all the good things under heaven.  The center glass bead I've created using 24kt gold foil and ruby glass to create a pomegranate, which represents fertility, abundance and marriage.  In the Jewish tradition, the pomegranate is a symbol of righteousness because the seeds corresponds with the mitzvot of the Torah.  Many cultures consider this fruit to symbolize fertility and love.  The red color represents the first chakra, our root into this world.  Red also is a symbol of passion and power.  Allowing ourselves to feel and be powerful, while respecting others and enjoying our blessings without shame or guilt is a beautiful and worthwhile idea to consider.
UNKNOWN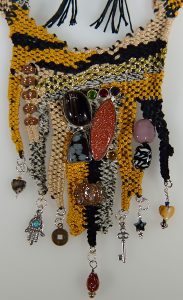 It takes courage to travel on a path of the unknown.  Life is a continuous mystery which we all explore in our own special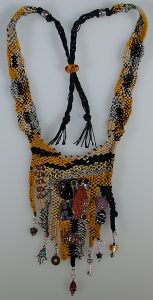 ways.  Black is a color signifying all that and elegance.  Gold represents illumination, love, compassion and courage.  This color palette is a powerful reminder that we all live in a world which is largely unknown to us, welcoming the illumination which guides us along.  The centerpiece is a group of stones set in sterling with a variety of beads and charms meant to illicit good fortune.
Mermaid's Dream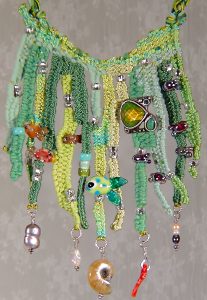 It my fondest dream as a young one to become a mermaid. Besides the beauty they conjured in my imagination, the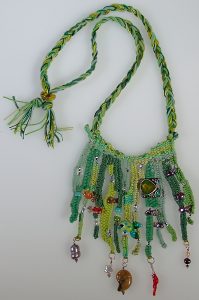 real idea of being able to plumb the depths of the oceans and live in a magical world kept me in touch with mystery in a welcoming way. Whether something exists in this concrete world or in the world of our imagination, being open to all possibilities spills over into every aspect of our lives. It's a marvelous freeing consciousness to embrace our dreams, fantasies and dearest wishes. I think it keeps a special place in our hearts open–supple and green like the seaweed that moves with the currents of the ocean. The elements I've chosen for this piece include a school of tiny glass fish I have made by hand as well as the glass slide, an opalescent ammonite, pearls, coral and of course, a color palette in various shades of green.
Sparkle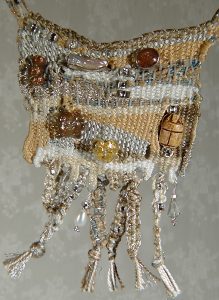 Sometimes I feel joyous, sometimes sad. It occurred to me that is what makes the stars in the sky twinkle.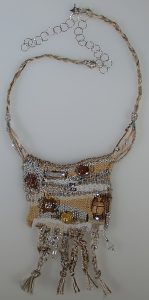 Reflecting the sun and turning away from it. The light and dark is what makes things sparkle. This piece seems neutral and at the same time has a variety of shades of white, gray, silver, gold, beige, tan. It feels like a glorious day at the beach. Some of the elements are sterling set biwi pearl, sunstone, vintage scarab and a gold lined heart and aventurine beads I've made.
Action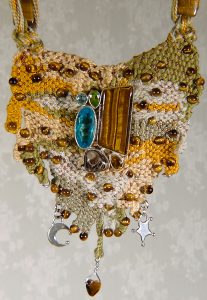 For me to take action, I must first feel stirred inside. There is a vibration that resonates with movement, but it must be in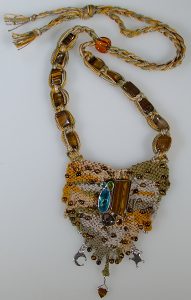 a balanced and authentic way. Sometimes it's about following my bliss, but it can also be a duty, a calling. Doing the woven pieces embodies all of that and more. This piece features a large tiger's eye stone along with a peridot, blue topaz, citrine and fossil specimen all bezel set in silver. The sterling star and moon are charms I've created and the tiger's eye heart dangles from the center, where all good hearts should reside.
Letting Go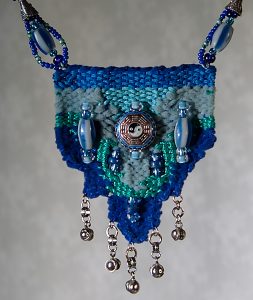 When creating this piece I exercised the ability to let go. For decades I've collected beads, gems and amulets. Some of these pieces are not available any longer and others are quite rare. Recently, it has been my absolute pleasure to feel free of these objects which I've held onto for so long. The woven pieces I'm now creating tell me what they require and in many cases I have just the perfect design solution in my collection. What ease and grace I find in being able to lead a more fluid life and not hold on to material objects or even ideas. The centerpiece in this work is an enamel yin/yang bead which I've stewarded for more than 25 years. The blue and white striped Venetian trade beads are very old, as are the granulated silver bead caps. Being free and able to let go is one of the greatest blessings in my life.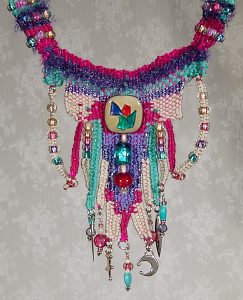 This woven piece features one of my highly washed cloisonne enamels lined with fine silver. The center beads are always my work and includes turquoise, sterling and crystals. Prices upon request.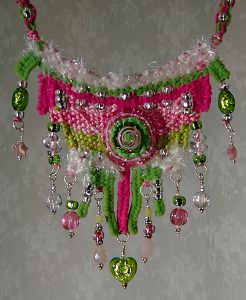 This whimsical necklace features many of my glass beads and sterling accents. Prices upon request.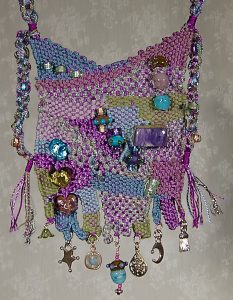 The asymmetry in this woven design expresses a wonderful freedom in design which features many of my glass beads, sterling charms and a sterling bezel set sugalite. Price upon request.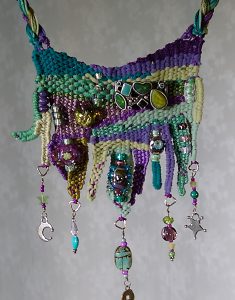 This woven piece features an array of my glass creations, enamel elements, charms of turquoise and sterling. Prices upon request.